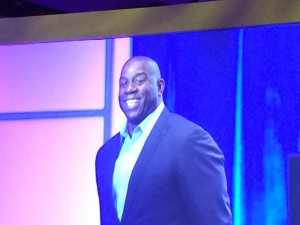 Another successful PMI Global Congress! The first keynote speaker was Magic Johnson. He knows nothing about project management or PMI but he is very charismatic. He stressed the importance of self-evaluation and said a leader's responsibility is to make his teammates play better. Both are relevant to PMs.
The second keynote was Daniel Levitin, a PhD and best-selling author. He was fantastic. He talked about the fallacy of multi-tasking and why humans frequently make wrong decisions. I bought his book, The Organized Mind, and look forward to reading it.
I didn't care for the third keynote speaker, who talked about (ugh) innovation. The fourth keynote speaker, Vince Poscente, was highly entertaining and motivational. A great way to end the conference.
The best presentations were:
Immediately Improve Your Projects by Implementing Visual Requirements Models by Joy Beatty. This was great – an actual review of tools that you can start using on your projects immediately (the title is truth-in-advertising). Get this presentation when it's made available. Or buy her book.
Kill the PMO! Resurrect the Department of Simplicity by Jack Duggal. Jack's passion carried this presentation. He was on fire! Great topic, great speaker.
On the disappointing side was the Access Health Connecticut presentation. Two (of the four) speakers needed a few more practice rounds. And the second speaker presented on cost containment while the fourth speaker said cost wasn't an issue. The presentation was not strung together with consistent themes. And a lot of it was on the marketing of Obamacare – we're there to learn about the project not the policy. (One speaker skipped over the risk management process – "you're not interested in the details" – um, yes we are – risk management is exactly the details that PMs are interested in. Know your audience.)
My presentation went very well. Several people asked me to come to their organization to present it so I guess it's time to get on the road.